To fix the pain or immobility caused by any injury as a result of disability, disease, accident, or some sort of exercise. Instead of painkiller medication, physiotherapy home service Dubai can opt for physiotherapy, which focuses on the body and muscular movements. You can take a minimum of three to six sessions of physiotherapy depending on your injury situation because these sessions will allow you to gain strength and heal the pain.
At Yes! Maam we are offering not only individual sessions but also offering services to sports academies where our expert physiotherapist gives the training to prevent sports injuries and exercise to recover and perform equally well as they were performing before the injury.
Need of Physiotherapy home service Dubai
If knee pain, neck strain, or back pain has become part of your life, you want to maintain and enjoy a healthy lifestyle; you should be taking physiotherapy sessions where our experts help you to get going in life instead of being immobile. Suppose you have constant pain and, due to immobility, you are unable to carry out daily activities. In that case, it's better to consult a physiotherapist, and according to your own convenience, you can take physiotherapy home service Dubai. Our physiotherapists make customized plans with different healing therapies to make recovery fast and helpful.
Effectiveness of physiotherapy home service Dubai
Over the years, physiotherapy home service in Dubai has been so effective and helped patients to improve their strength by reestablishing their health, mobility, and normal function of the body or affected area. At Yes! Maam best home care service Dubai. Our qualified and certified DHA-Approved physiotherapists offer world-class physiotherapy home service in Dubai. general public instead of taking medication try to get physiotherapy as it's less harmless and will not have a negative effect on the internal organs.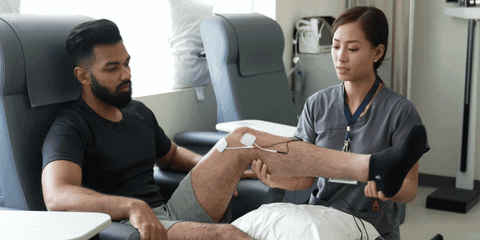 Here are some advantages of getting physiotherapy home service Dubai. At Yes! Maam, our team is committed to providing you best home care service in Dubai. The plus points of taking physiotherapy are;
You don't have to undergo surgery

Help to deal with the arthritic pain

Recovering from heart and lung issues

Improve the mobility of the affected area

Helping with pregnancy and postpartum care

Prevention and recovery from a sports injury

At least reduce the pain if it doesn't disappear

It saves you from falls and the impact as a result of it

treatment and rehabilitation for the post-stroke patient
Physiotherapy home service Dubai we offer
At Yes! Maam we provide physiotherapy home service Dubai to enhance muscular movement, mobility, and functioning. Our best home care service in Dubai aims to help individuals recover by allowing them to function normally and independently. Home health care services give you the freedom to get the benefits in the comfort of your home and stimulate development and help make a quick recovery.
Sports Physiotherapy

Chest Physiotherapy

Heat or Cold Therapy

Geriatric Physiotherapy

Pediatric Physiotherapy

Post-stroke physiotherapy

Neurological Physiotherapy

Stress-Reduction Physiotherapy

Antenatal and postnatal Physiotherapy

Pain Management & Rehabilitation Therapy
At Yes! Maam we offer the best home care service Dubai, and our expert physiotherapist in the comfort of your home gives the sessions by using different therapies to reduce the pain. The injury can be protected by using physiotherapy home service Dubai to reduce the pain and decrease swelling. Contact Yes! Maam, today and get the physiotherapy home service in Dubai at the most economical rates.
Written By:
Momna Aziz
Yes! Maam Facebook: https://www.facebook.com/yesmaam.ae/

Yes! Maam TikTok : https://www.tiktok.com/@yesmaam.ae

Yes! Maam Instagram: https://www.instagram.com/yesmaam.ae/

Yes! Maam Twitter: https://twitter.com/YesmaamOfficial

Yes! Maam Pinterest: https://www.pinterest.com/YesmaamOfficial/

Yes! Maam Business Profile: https://yes-maam-home-nursing-services.business.site/?m=true