To relieve the pain and rehabilitate the patient traction machine physiotherapy in Dubai is used as it supports to relax muscles, removes the pressure from the disc, and compression from the nerves, which results in an improvement in blood flow. At Yes! Maam Best Home Care Service in Dubai we have a DHA-Approved physiotherapist in Dubai who offers traction machine sessions depending on the situation in exchange for a very minimal amount as a charge.
Traction Physiotherapy in Dubai
Traction physiotherapy is a type of treatment in which a physiotherapist puts force on the spinal column. During this physiotherapy session, the spine columns are hauled in opposite directions to change the spot of damaged parts of the spine and stabilize for rehabilitation. By using many fixation devices and weights, force is applied, and the patient must be on a bed or a vest. There are many types of traction physiotherapy used by professionals to treat the illness.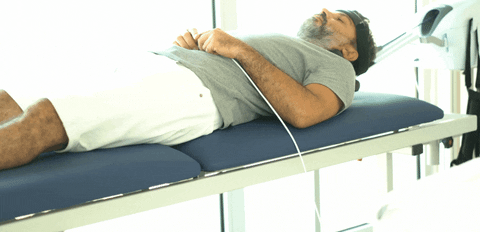 Types of Traction Physiotherapy in Dubai
At Yes! Maam Best Home Care Service in Dubai has two basic types of Traction Psychotherapy in Dubai which are used for rehabilitation and reintegration purposes.
Manual Traction

Physiotherapy

in Dubai
During manual traction physiotherapy in Dubai, different techniques are used to reduce the pressure from the damaged or affected vertebrate, which is the cause of pain. Manual traction physiotherapy consists of many stretching techniques. The physiotherapist uses hands to put pressure on the joints or muscles to widen the space between the vertebrates. Manual traction may look relatively scary; however it is the safest treatment choice that is effective for specific conditions.
Mechanical Traction

Physiotherapy

in Dubai
This is a particular treatment technique to treat pain and muscular problems. Physiotherapy for mechanical traction uses devices that work by stretching the spinal muscle and vertebrae. Mechanical traction permits constant or intermittent stretching on a traction bed while joining heat therapy, vibration, and massage. A computer-based system is attached to the table to apply particular amounts of variation and pressure.
Patients with severe bone conditions should not be receiving mechanical traction physiotherapy. Diseases like bone cancer, osteoporosis, and spinal cord diseases need to take first medication and, if required, can opt for physiotherapy. Patients with arthritis and spinal fractures also don't need mechanical traction. This kind of treatment should only be considered subsequent vigilant inspection and diagnosis and professionally administered by a DHA-Approved licensed physiotherapist to ensure effectiveness and safety.
Uses of Mechanical Traction

Physiotherapy
A traction machine is used for patients suffering from some specific spinal medical conditions that can be treated by using traction therapy. The traction machine is most frequently used to treat;
Sciatica

Disc slips

Bone spurs

Facet disease

Pinched nerves

Foramina stenosis

Cervical Spondylosis

Lumbar Spondylosis

Disc Degenerative illness
At Yes! Maam Best Home Care Service in Dubai, a traction machine is used to apply a pulling force to the joint surface, bone fragments and to stretch soft tissues. The force by using a traction machine is applied; our qualified and expert physiotherapists make sure to apply a sufficient degree of force and duration in the appropriate direction while resisting body movement with an equivalent and opposite strength. In addition to the traction machine therapy, our best physiotherapist also demonstrates and recommends home exercise for the patient to help maintain the commotion of the spinal joints in order to relieve pain. Call Yes! Maam Best Home Care Service in Dubai to, book an appointment and live a pain-free life.
Written By
Momna Aziz
Yes! Maam Facebook: https://www.facebook.com/yesmaam.ae/

Yes! Maam TikTok : https://www.tiktok.com/@yesmaam.ae

Yes! Maam Instagram: https://www.instagram.com/yesmaam.ae/

Yes! Maam Twitter: https://twitter.com/YesmaamOfficial

Yes! Maam Pinterest: https://www.pinterest.com/YesmaamOfficial/

Yes! Maam Business Profile: https://yes-maam-home-nursing-services.business.site/?m=true